Kristen won:
Favorite Movie Actress for The Twilight Saga: Breaking Dawn: Part 2
Favorite Female Buttkicker for Snow White and the Huntsman
HQ

'Red Carpet' Zip | Zip
'On Stage' - Zip
'Audience' - Zip
Backstage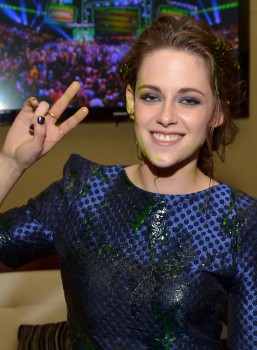 MQ

Red Carpet
On Stage
Photo from Kristen's Make up Artist Jillian Dempsey
Couldn't help myself. Went for purple eyeshadow on Kristen Stewart. Kids Choice Awards. #KCA

Photo from Kristen's Hairstylist Adir Abergel
Just finished doing Kristen Stewart's hair for the kids choice awards. I loved her braid, did you?
Twitpics/Fan Pics
Videos

Accepting Award
In the audience
Red Carpet
Kristen at the red carpet signing for fans and with Katy :)
---
Kristen Stewart wore @louboutinworld "Pigalle Plato" pumps to the 2013 Kids' Choice Awards; shoerazzi.com/kristen-stewar…
— ShoeRazzi (@ShoeRazzi) March 24, 2013
#kstew wears #taboo @chanel #nailpolishEven with green slime she still looks stunning!! Xx twitter.com/Ashlie_Johnson…
— Ashlie Johnson (@Ashlie_Johnson) March 24, 2013
HQ pics: kstewartfans
Twitpics/Fan Pics: 1 | 2 | 3 | 4 | 5 | 6 | 7
Videos: 1 | 2 | 3 | 4 | Via | Via | Via
ZIPS: 1
via