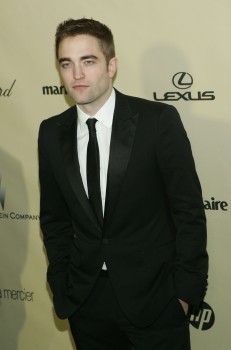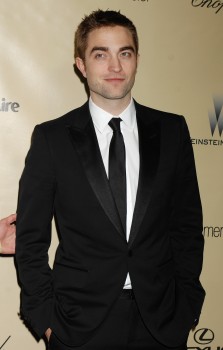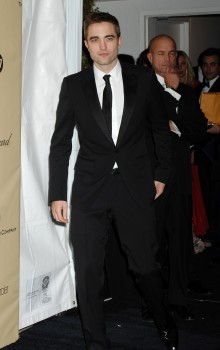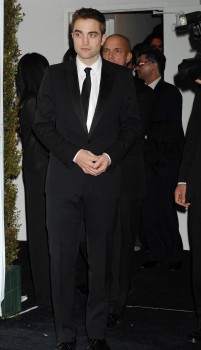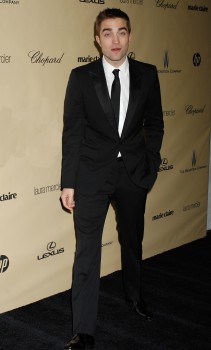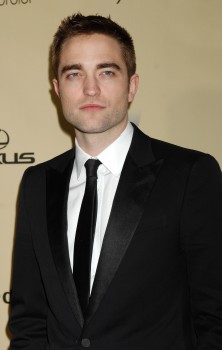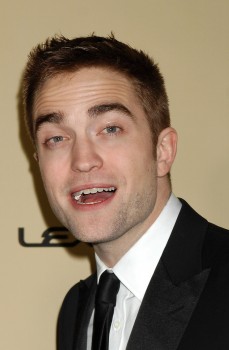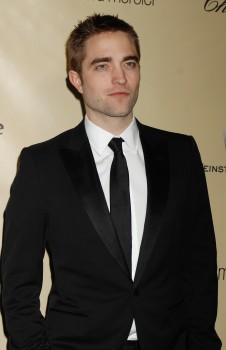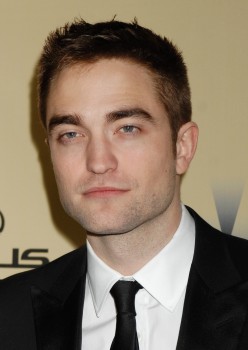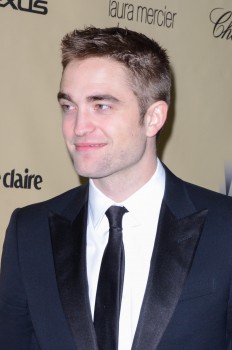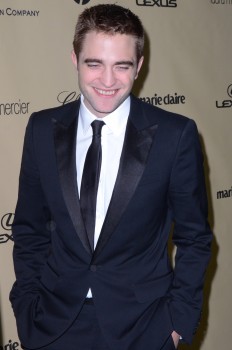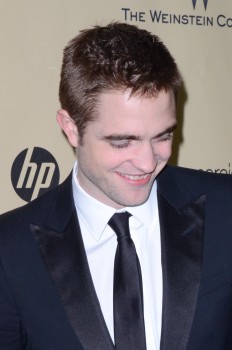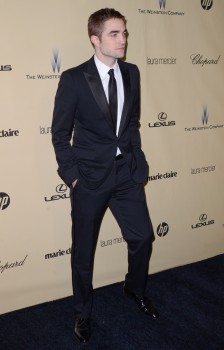 Article from eOnline
Robert Pattinson may have been solo at the Golden Globes, but Kristen Stewart joined him later on for some late-night fun.



Twilight's real-life lovebirds were among the guests at Tina Fey and Amy Poehler's private post-party at Soho House in West Hollywood Sunday night.

Pattinson arrived by himself and gave a rose to Fey. Stewart, dressed casually in jeans, a sweatshirt, a backwards hat and tennis shoes, arrived at about 1 a.m.



Also at the Baileys-sponsored soiree were Aziz Ansari, Jon Hamm and Jennifer Westfeldt, Ty Burrell, Zooey Deschanel, Louis C.K., Max Greenfield, Michelle Dockery, Rashida Jones, Judd Apatow, Seth Meyers, Jack McBrayer, Julianna Margulies, Michael J. Fox, Jesse Tyler Ferguson, and Adam Driver.
From Yahoo Movies
The goods: Yes, Robert Pattinson came. No, he didn't do much else but show up (kind of like his appearance on the show itself). Armed with his agent and a security guard, the fetching fella congratulated winners and spoke with Harvey Weinstein before bouncing.
From The Wrap
And the winner is...Weinstein. The "must-attend" party had head-turning pairings, Robert Pattinson with his own tent, Kobe Byrant and a "Best Picture" photo booth with a sorceror's lens that made everyone's complexion look like Dita Von Teese. (No this was not written by Stefan from "SNL".) The night ended with Jon Hamm in the middle of a dance circle at Soho House with Michelle Dockery, Seth Meyers and Kristen Wiig. Photos of famous faces letting loose lie ahead.
Another article from eOnline
Over at The Weinstein Company soiree, where guests sipped Möet & Chandon champagne and DeLeón tequila and enjoyed Katsuya sushi and Sheila G's Original Brownie Brittle, Pattinson was spotted dancing with Sienna Miller while Leonardo DiCaprio enjoyed a Fatburger before hanging out with his Django Unchained costars Jamie Foxx, Christoph Waltz and Kerry Washington.
Article from People
After Sunday's Golden Globes, West Hollywood's Soho House hosted a private afterparty, where co-hosts Tina Fey and Amy Poehler celebrated being the first female duo to ever host a major awards show.





Around midnight, the party began to move from the main bar to the outside bar. There, Robert Pattinson "held court and joked around with Tina Fey," an onlooker tells PEOPLE. "He presented her with a red rose."





As Baileys cocktails flowed, Fey and Poehler traded their gowns for more casual wear and mingled with guests including Aziz Ansari, Mad Men's Jon Hamm and girlfriend Jennifer Wesfeldt, Modern Family's Ty Burrell, Eric Stonestreet and Jesse Tyler Ferguson and Homeland's Damian Lewis.



While at the bash, Pattinson also chatted with Les Misérables star Eddie Redmayne, Rashida Jones and Ansari, who had something of his own to give to the Twilight star.

"Aziz tried to feed Rob some mac and cheese," the source says.

Later, Pattinson spent more time outside while waiting on Kristen Stewart's arrival. Although Pattinson was dressed in a suit, Stewart sported a more casual look, wearing jeans, a sweatshirt and backwards trucker hat.

"They hung around each other, but [they weren't] on top of each other," the source says.



As the night progressed, Stewart chatted with Sienna Miller, who was nominated for a Golden Globe for her role as Tippi Hedren in The Girl.
Tweets
@EW: #GoldenGlobes after-parties: HBO! Jon Hamm downing food, Rob Pattinson by bar, winner Julianne Moore dancing
@HerNameIsDeidre: Just asked Robert Pattinson what the highlight of tonight was. He answered, "Meh."
@marcmalkin: Get ready to scream...it's Robert Pattinson at the Weinstein company party! http://instagr.am/p/Uc6Kh9LWej/
@MattDonnelly: Just spotted #RobertPattinson at the Weinstein Co after party. #GoldenGlobes #omginsider
@MattDonnelly: Rob is with his manager + security guard. #GoldenGlobes #omginsider
@tedgibson: Yep that's who I am hanging out with #robertpattinson #peopleglobes xo
@JaredEng: Oh just chillin w Robert Pattinson at the @WeinsteinFilms moetusa party. He said he rang in the new year in England with the usuals - friends he's known since forever.
@aliciamalone: @RPAustralia saw him! He didn't stop for anyone, but looked good! I tried my best, got a smile. #illtakeit
@CelebSightings: RIGHT NOW: Robert Pattinson has a smoker friendly own private tent outside. #Globes (Sun 1033P)
@carlyjsteel: Robert Pattinson at Weinstein party #Goldenglobes
@marcmalkin: just got word that kristen stewart just joined Robert Pattinson at a super private post-@Goldenglobes VIP party. More to come. #eredcarpet
@sayLAViannerose: Dude. 3am-closed down the Golden Globes on the dance floor w/Hamm, Wiig, Fey, Poehler, Dockery, Redmayne, Rpatts/KStew, Waltz, Affleck... :)
Source - Twitpics: 1 | 2 | 3 | 4 | 5 | 6
RPLife